Calgary Foothills FC will kickoff the 2017 Premier Development League season at home against league newcomers TSS FC Rovers Friday, May 5.
They'll finish the regular season 11 weeks later at home against Victoria Highlanders FC Sunday, July 16. The PDL playoffs will begin shortly after.
The PDL announced the 2017 season's schedule earlier this month. Six clubs, including three Canadian teams, will compete in the PDL Northwest Division this season – Calgary Foothills FC, Lane United, Portland Timbers U23, Sounders FC U23, TSS FC Rovers and Victoria Highlanders FC.
Sign up to receive free Calgary Foothills FC news via email
The division's schedule will again see the majority of the matches played on Friday nights and Sunday afternoons – a format that proved successful last season. Each club will play 14 regular season matches – 7 home and 7 away.
Foothills FC will be hoping to repeat the successes of 2016. The Calgary club won the Northwest Division and Western Conference on their way to the PDL championship final, eventually falling just short in the final match to Michigan Bucks.
Foothills FC 2017 season tickets are now on sale.
[wptg_comparison_table id="3″]
Download and print our Calgary Foothills FC 2017 schedule poster: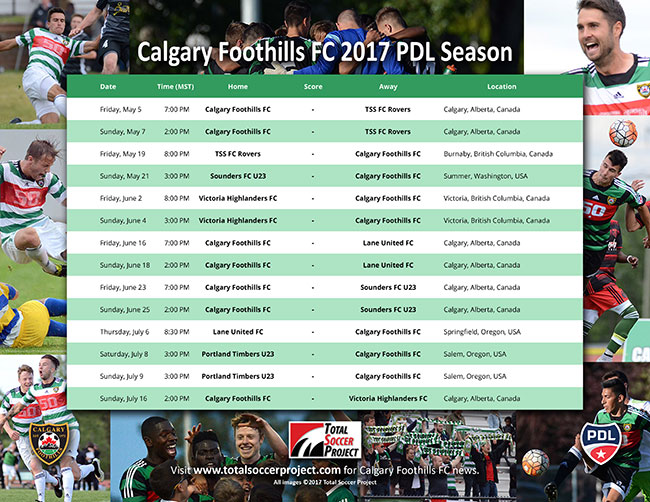 Follow Stuart Gradon: @StuGradonPhoto
Follow Total Soccer Project: @TSoccerProject